APCUG Olympus Camera Info
The Olympus D600L Camera.

What a difference a year makes. Last year, I was able to take a look at the Olympus D-500L camera and found it to be an excellent digital camera for those who like full featured cameras that rival that of an SLR, Single Lens Reflex camera. This year, I had the opportunity to take a close up look at the Olympus D-600L which differs from the 500 in that you get a bit higher resolution pictures to deal with. It is an excellent camera and I am quite impressed with it. Having had the chance to use some of the point and shoot cameras over the past year, I am convinced that the camera like the Olympus D500L/D600L is for me. As I mentioned, it maintains the look and feel of a true SLR, you see what you are taking in the way of pictures, and it makes it easy to take pictures. If you want the flash turned on, just raise the flash cover.

Resolution is a stunning 1280x1024 1.4 million pixels and it has a true 3X optical zoom. I really like the optical zooms as when you do zoom in on an object, you know exactly what it will look like and you lose not a bit of resolution either. Because the camera is a through the lens type (TTL), you also immediately know if your picture is in focus. The zoom lens gives you an equivalent range of 50mm to 150mm in a 35mm camera. It is also fast with an equivalent f2.8 optic, better than many SLR zoom lenses.

Memory, like the Olympus 500L, uses the 3.3 volt SmartMedia memory cards. I like these cards because of their very small size but the downside is that they are easy to misplace. You can now get 16MB cards and with that it will store quite a few images even at high resolutions. With a 4MB standard card, look for 4 Super High Quality Images out to around 40+ Standard Quality Images at 640X512.

For accessories, I would highly recommend multiple memory cards, and an extra supply or two of the Olympus rechargeable batteries. Nice thing about this unit is that you have quite a few options to getting your pictures into your computer. Standard with the camera is the data transfer cable to connect to a serial port. You load in the file transfer software and watch your batteries drain as you transfer pictures from your camera to the computer. Two other options make it a whole lot easier and they are either Olympus' Flash Path 3.5 floppy adapter for the SmartMedia cards which I used last year and was very happy with, or even better for laptop users, the PC Card adapter that plugs the SmartMedia card directly to your PCMCIA socket on your laptop. Naturally, if you will continue to use the serial cable, get the optional AC adapter.

There is a very good feel to the camera when holding and using it. It has a solid, well built design, and excellent optics. Features I liked included a dioptic lens so that I could take pictures without having to wear my glasses but I did find that the rubber hood on the viewfinder was not a problem. The way the dioptic lens on the view finder works is that there is an adjustment knob so you can approximate your glasses prescription when using the camera. For the most part, the buttons were easy to understand once you knew what they were.To change the settings on the camera, you use the LCD panel in the back but that can be a problem under very bright sunlight. It seems that this camera did a bit better job than the D500L that I used.

Things I would quibble about include not being able to read which direction the Smart Media card goes into the camera. The good news is that it will fit only one way into the camera so even though you can't read the icon, you will not get it wrong. At this point in time I wish it would have taken the Compact Flash memory as it does come in larger quantities as the standard 4MB card I had with the camera fills up rather quickly if you are using it on the high resolution settings.Hopefully, we will start to see higher memory capacity on the SmartMedia cards.

Like a lot of other automatic cameras, it will let you take pictures when you shouldn't because of low light. I was able to take a lot of existing light pictures at night and could easily tell that many of them were a bit blurry because I couldn't keep the camera steady enough holding it in my hand. Unlike many of the other cameras, the Olympus has a lot of manual control available to you if you want to change settings. You have the ability to override the focusing which is handy if you really need something in focus, and you can also compensate for exposure problems within a three f-stop range. Unfortunately, the flash range on the D600L is not as good as the D500L with only a working range of 12 feet. That is one thing that I would have them work on..

While there are 10 buttons that you use in using the camera, it is not overly complicated to use as for most picture taking, you just need to first think about the resolution you want the picture at and then compose with the easy to use zoom switch and take the picture.

Software included besides the Olympus capture software are Twain drivers to let you snag the pictures with other graphics applications and Adobe's great PhotoDeluxe image management and editing package.

To Take a look at Olympus Web Site for the Olympus D600L.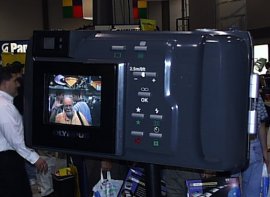 The Oversized Olympus D340L Camera
(check out who is on the screen)
Return to the APCUG Picture Home.
---
Email: Robert Sanborn, at: sansoft@in.net
Copyright 1998, Robert Sanborn is an Independent Personal Computer Consultant, Store Manager for That Computer Store in Indianapolis, IN, and Contributing Editor and Program Chairman for the Indianapolis Computer Society. Reach him through the net at sansoft@in.net Page Last Revised: November 30, 1998.
---