Portugal's Expo 98 World's Fair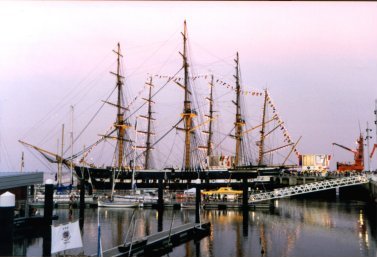 What looks like a plethora of masts is actually two ships side by side in the harbor that became part of Expo 98, the World's Exhibition that took place in Lisbon from Mid May to the end of September. Over 140 countries and organizations had exhibits where the theme was the Oceans. Lisbon was celebrating the 500th anniversary of Vasco de Gama's trip to India opening the spice trade.
| | |
| --- | --- |
| Among many of the exhibits at Expo '98 was a new aquarium now the largest in Europe. You walk up and down ramps that show you many different views of tanks of incredible sizes and shapes. With everything from sharks to jelly fish the presentation in this hall alone was worth the price of admission. A total of five large tanks show you different Eco systems from around the world. | |
| | |
| --- | --- |
| | From within Expo98 there were a number of pavilions worth exploring including the Seas of the World. This is a light from a lighthouse much as we would see along the coast of Maine. |
| | |
| --- | --- |
| Lesotho was one of 140 countries to have exhibits at Expo 98 and this day was the National Day of Lesotho. The Kingdom of Lesotho is a landlocked country completely surrounded by South Africa. | |
Another organization at Expo 98 was Palestine with this carving of a mosque in mother of Pearl. Very beautiful

As before, there were ships of every size and description that you could tour at Expo 98.
---
Email: Robert Sanborn, at:
All are scanned images Pat's Photographs. Copyright 1998, 2001
Page Last Revised: January 26, 2001.
---