In and Around Lisbon Portugal
Pat and I Really enjoyed this city, easy to visit and get around in and the food was great.
| | |
| --- | --- |
| Our first stop in Lisbon, after a quick nap to recover from jet lag, was the St. George's Castle on one of the many hills overlooking the city. This is probably the spot on which the city was founded, predating the Romans. In the 5th Century, it was a Visigoths fortification. Lasting over 200 years, it fell in the 8th Century to the Saracens who then held power until 1147 when Afonso Henriques chased the Moors out and declared himself the first king of Portugal. The castle name comes from a pact with England in 1371 as England became a primary ally of Portugal. The views of the city from here are stunning. | |
| | | |
| --- | --- | --- |
| | The views of inside of the castle are just as beautiful as this view of the fountain in one of the courtyards late in the day. In another we found Pedro Godinho, a street guitarist. | |
| | |
| --- | --- |
| Visited by more tourists than any other museum in Lisbon, the National Coach Museum was founded by Amelia, wife of Carlos I in an 18th Century Riding academy. Most of the coaches date from the 17th to 19th Century. This example is a completely restored coach layered in gold. Incredible! To see a bigger picture go here. | |
The Tower at Belem has long been the gateway to Lisbon. is a monument to Portugal's age of discovery. It was erected around 1520 in the classical Manueline style of architecture. The location is near where the Caravels of Portugal sailed on their journeys of exploration and conquest.
| | | |
| --- | --- | --- |
| | And as usual, there were plenty of tourists everywhere. | |
The Monastery at Jeronimos is another one of the most visited sites in Lisbon. It was founded in 1502 by Manuel the First to commemorate Vasco De Gama's recent voyage to India. The vast fortunes made in the spice trade allowed them to build such an impressive structure.
| | |
| --- | --- |
| Manueline, the architecture named after Manuel the First, combines flamboyant gothic and Moorish influences with elements of the beginning renaissance in Portugal. Originally on this location was a small chapel dedicated to St. Mary, it was founded by Henry the Navigator. | |
Portuguese Bullfights are truly spectacles to watch. A pageant of color, sound, and ceremony precedes the ill treatment of the Bull but it is something to see for those who have never seen one. Unlike the Spanish fights, the bull in the end is led out of the arena to end his days fortunately with a bit less pain and humiliation.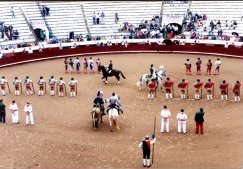 To Continue Your Tour, Go:
On to Portugal's Expo98, The Last World's Fair of the Century.
---
Email: Robert Sanborn, at:
All are scanned images Pat's Photographs. Copyright 1998, 2001
Page Last Revised: January 26, 2001.
---